22:32 Men is not just a yearly conference but "a movement"
As a core group of men met for the first time in May or June of 2013 to plan the 1st ever men's conference in Erie PA. We quickly realized that if we were going to do God's will, 22:32 Men (as it was prayerfully named) would have to be more then a one day gathering of men. "We need to make this a movement". Now… that being said, as many on the steering committee would tell you this has been a slow but ultimately fruitful task. Since our first conference, men throughout the diocese, the country and abroad have committed to let God be in charge of their life and do whatever it takes to be leaders of faith for their families. Many have done this through forming individual small men's groups who meet to discuss the difficult issues facing men today. They have formed bible study groups. They take road trips to attend faith strengthening events and retreats.
Men need men for strength, to fight the temptations that plague us in this secular world!
Luke 22:32 But I have prayed for you that your own faith may not fail; and you, when once you have turned back, strengthen your brothers."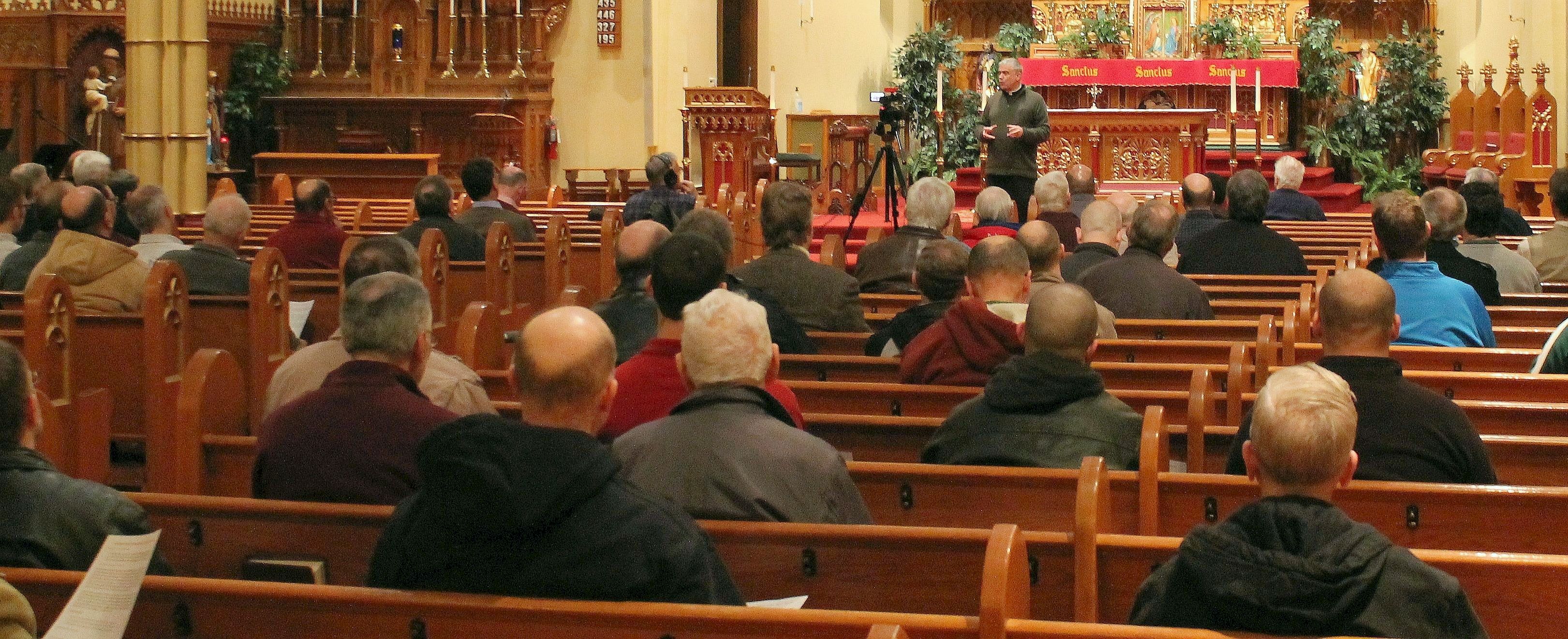 In January of 2014 we kicked off the first of a 2 year long schedule of 22:32 Men Strengthening Summit Sessions. A monthly 1 hour talk on a plethora of different topic's brought men from all over the diocese back together to be encouraged, challenged and strengthened in their faith. Following each talk there was an opportunity for confession, group discussion and fellowship. For those who were unable to attend, a live stream broadcast was provided. Hundreds of men and several men's groups throughout the country logged in to watch the livestream production. Additionally, each session was recorded and is being viewed daily on our website and YouTube. One of the reasons we recorded these sessions and make them available is so that men can continue to revisit a subject themselves and/or share presentations with someone in need.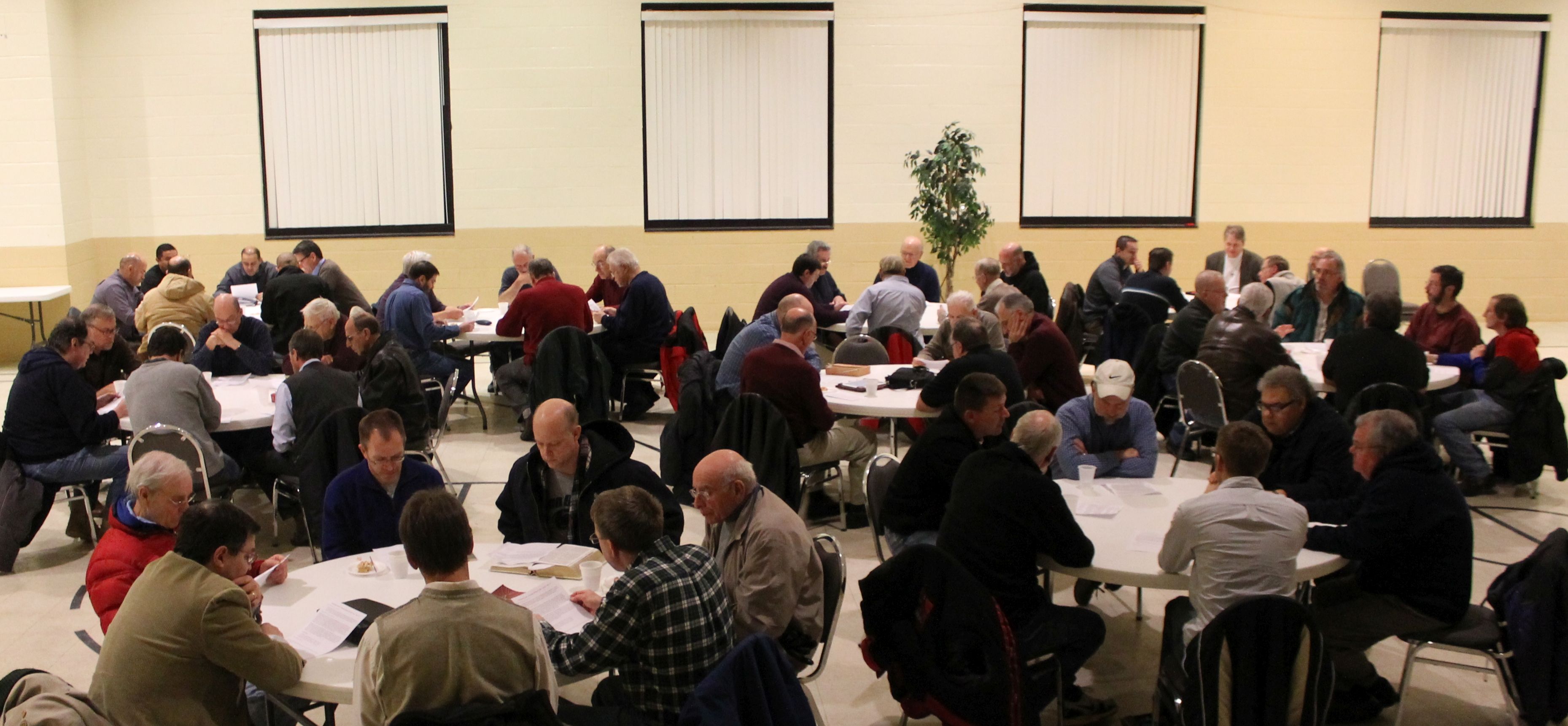 ---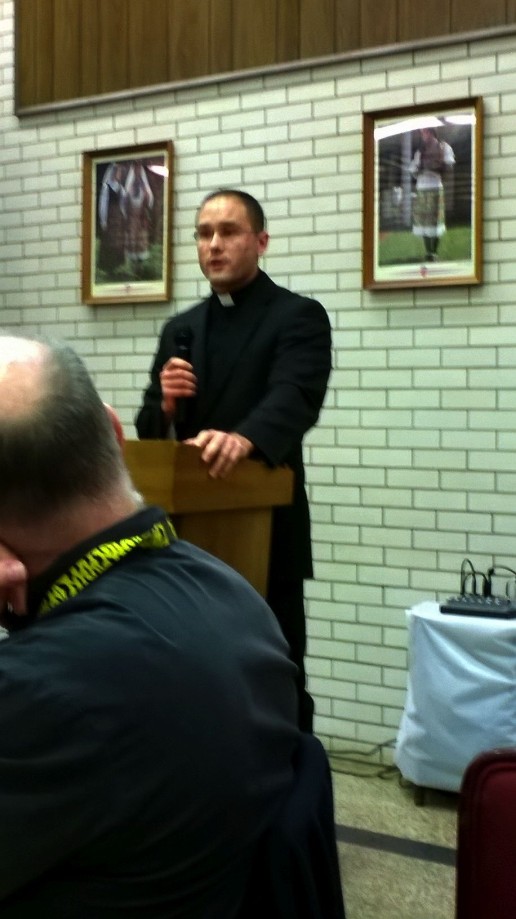 "Why be Catholic?" Sharon, Pa. – St. Anthony Parish
You know it's amazing how the Holy Spirit works. How often do we open our Church Bulletin on Sunday and just browse through and toss it out. October's issue caught my eye. There was an article that simply stated "Why be Catholic?" Then there was a picture of our good friend Dr. Ray Guarendi. Many will remember Dr. Ray from our very first Men's conference in 2013. Also featured speaker was Fr. James Campbell. Fr. Campbell is from Erie and is the twin brother of the Pastor of St. Anthony's in Sharon, Pa,  Fr. Joseph Campbell. This particular event was sponsored by The New Evangelization Council of Mercer County. It was being held at St. Anthony Parish. I am always looking for opportunities to share my faith with others and to network with others and spread the word of our 22:32 Men's movement. So, I emailed my brothers on the committee and asked who would like to go on a road trip. I don't know about you, but the call for a road trip is something that some us can't pass up. Seven of us packed into an SUV and we went down to Sharon. As we drove down, we went back and forth on the opportunity we had been given to get the word out of our small movement. We had no idea what we were getting into. Once we got Sharon, we found our parking spot in a modest parish parking lot. We found our way to the Parish Hall. There we found a most diverse group of people. There were older senior and young kids, men and women in a room filled with round tables and chairs. A table filled with all kinds of goodies and several "boxes" of wine! Once we made ourselves at home, we began to move about. We were wearing our shirts and sweaters with our 22:32 logo, and people would ask us about this and we were glad to explain. Little did we know that this entire event and The New Evangelization Council of Mercer County was started by a man who attended our 2013 conference and was inspired by the Holy Spirit to do "more". Needless to say we were all blown away by this. You never know the "fruit" of your efforts once you have planted the seed. Dr. Ray showed his expertise in apologetics and gave a great talk. After the talk he invited all of us to a taping of his EWTN television series "Living Right With Dr. Ray" in Cleveland, Ohio. Of course we all thought "Road Trip". It was a great evening and it was something we all knew we would have to do again. There were many conversations and lots of laughing and just a time of sharing for everyone. I'm always amazed by how The Holy Spirit works!.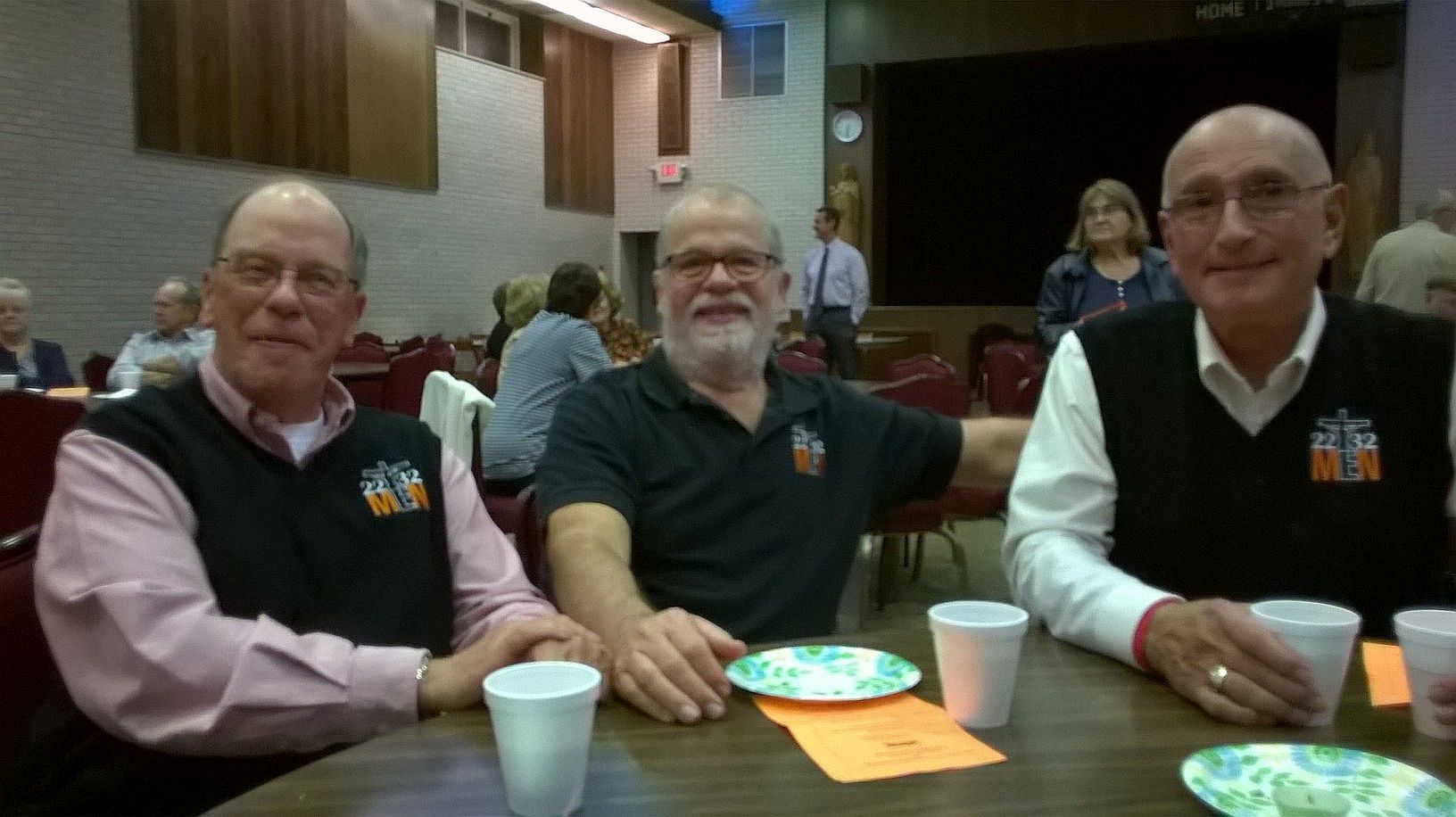 ---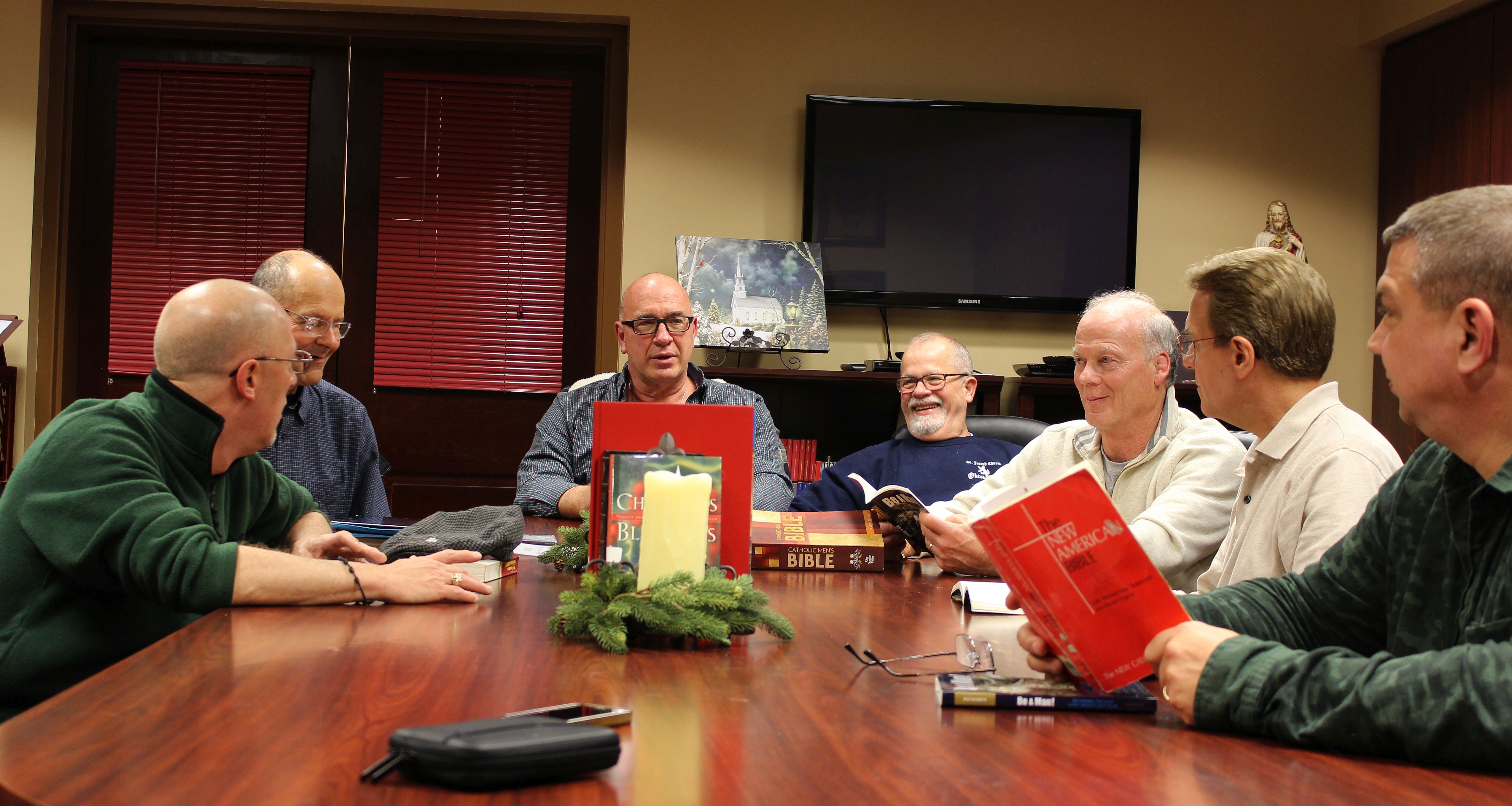 Small Mens Groups
Ever since 22:32 Men was started, one of our main missions has been to promote "Men's Small Groups", in all the parishes of the Erie Diocese. It has been our passion to do this. In 2015 a small group was started at St. Joseph Bread of Life Community, in Erie, Pa. These men meet every other week at 6:00 am at local coffee house. The format is simple; we open with prayer first, next the men will discuss a book that they are reading. They challenge each other at each meeting to grow in their in their faith. Reflection usually leads to discussion and the men talk about what Lord is putting on their heart. It's this discussion which brings us closer to each other and the Lord. Men encouraging men, "iron sharpening iron". There are so many challenges men face in this increasingly secular society we live in. Without our faith in Jesus Christ and His Church, we would be doomed to failure as husbands, brothers, fathers and grandfathers! .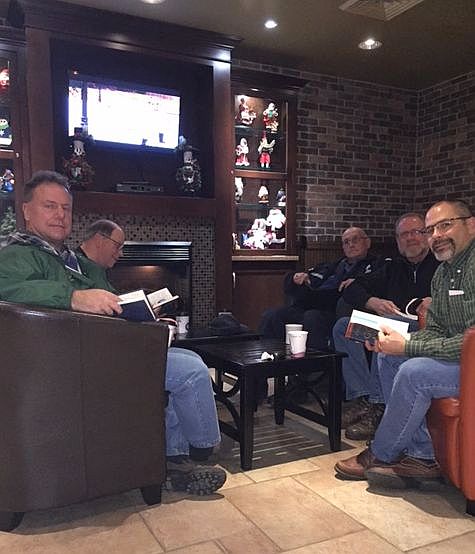 Prayer is the backbone of our small groups, we lift up our family members, friends and associates each time we meet. Everything we discuss is kept in the group in confidence. This encourages men to open up to each other and seek true guidance and support. As the morning group continues to meet, there was a desire from other men to meet in the evening. By providing a time to meet in the evening, men who normally could not meet early, now have a chance to meet as well. This group has successfully been meeting every other week for some time now, and our group has continued to grow as well. Thanks be to God, for without His Grace and Mercy, none of this would be happening. In this Year of Mercy, we are called by Pope Francis to promote our Lord's Mercy in some small way. By starting a small group in your parish, you will be sharing in this Year of Mercy. If any of you out there reading this are interested in starting a small group. If the Lord has been putting this on your heart, feel free to contact us. You can do this through or web sight at 2232men.com or simply call Tim Greer at 814-504-7576. We will come to your parish and meet with you and help get things started. The format can be determined by your group. Always be sure to get approval of you Pastor, he may even want to help you as well. Remember, prayer is the backbone of our Small Group. Through prayer, all things are possible. Please pray for us at 22:32 Men as we continue to pray for you, thank you and God bless.
---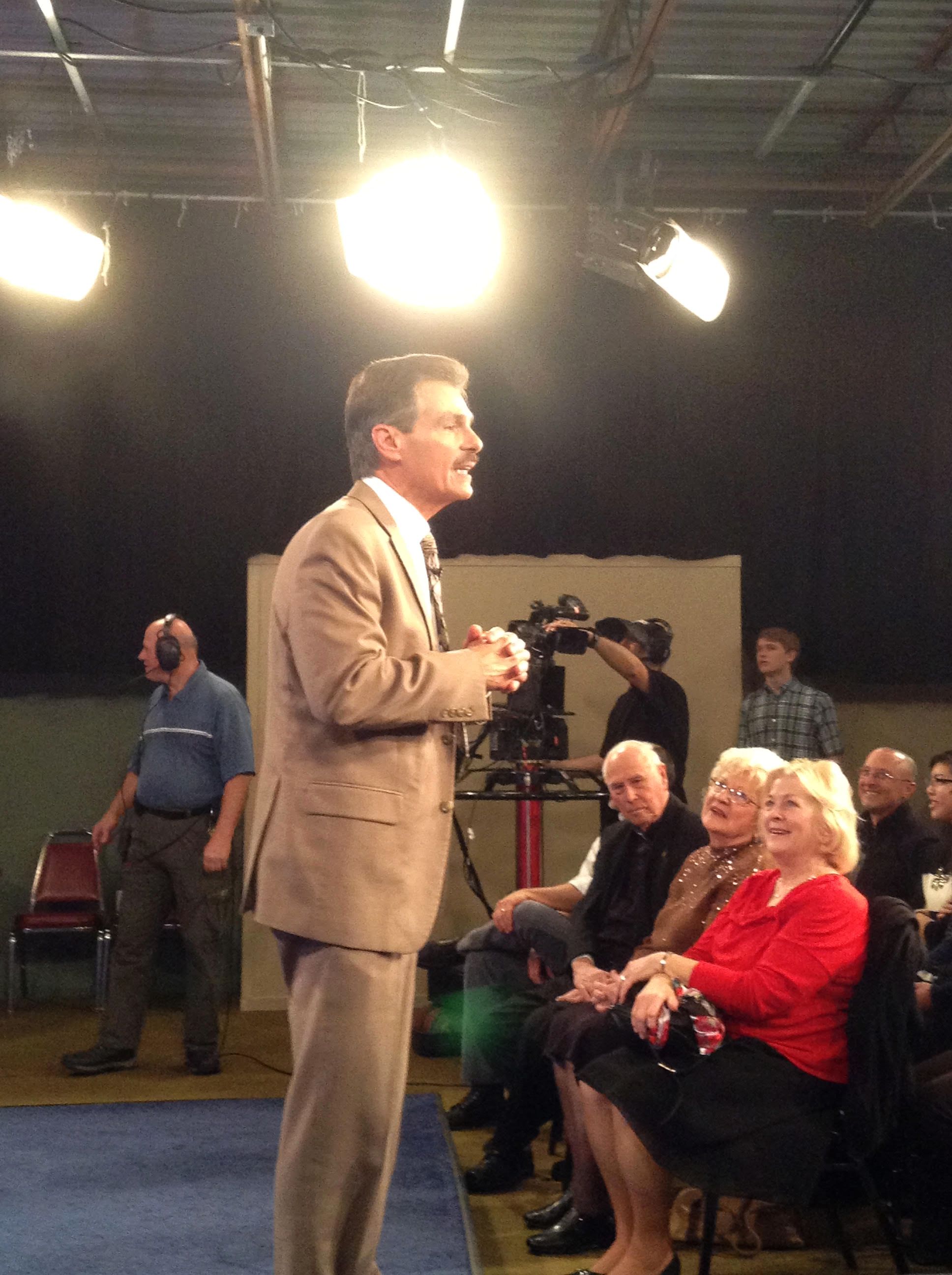 Dr. Ray Taping
How many guys do you know will get up at 5:30 am. on a Saturday to travel 100+ miles unless its for a sporting event, fishing or hunting trip; not many I suspect. But on December 12, 2015, seven guys from the 22:32 Men group, piled into three cars and headed out to Parma, Ohio. It was another road trip we have been going on to get the word out about our movement and our upcoming March 12, 2016 Men's Conference. We were invited by Dr. Ray Guarendi to view a taping of his EWTN television show, Living Right With Dr. Ray. Co-staring with Dr. Ray on this taping was Fr. Larry Richard's. In past years, Fr. Larry's segment was taped in Erie, Pa. at St. Joseph Bread of Life Church, where Fr. Larry is the pastor. But for this taping of several installments, Fr. Larry was live in color with Dr. Ray. What a treat this promised to be. For December 12, it was a beautiful day for a road trip. We had no idea where we were going except for our "nagagator" and Dale's trusty directions from Google Maps. We made the trip in two hours, and to our amazement we drove into a church parking lot and huge craft show. There were hundreds of cars already parked and we knew these cars weren't here to see Dr. Ray and Fr. Larry. when we got out of our cars we had no clue where to go. But as usual the Holy Spirit was with us and the next thing we knew, we were upstairs and sitting in the "green room" drinking coffee and milling with the folks who were there to take part in taping in the show. The seven of us must have looked like a cult. We had our 22:32 vests on and that usually begins a conversation. Our first encounter was with a man from Erie as well. He asked about group and we had another chance to evangelize about our movement and our conference. Next, a lady who was part of the production team, asked if we would be willing to be a part of the show. Dale and Rick agreed to this. For their part we all got to sit in the front row! Once inside the studio, the show began, what a blast we had! Rick and Dale were involved in an opening skit with Dr. Ray and Fr. Ray. It was a great experience to sit through the live taping of Living Right With Dr. Ray. The interaction between Fr. Larry, Dr. Ray and the studio audience was hilarious. We all left the studio with a new appreciation of live taping for a television show, that's for sure. We had lunch at a local fast food restaurant and laughed at our selves and how great the whole morning had been. We realize just how important it is to get out and interact with like minded Christians and to encourage each other. We are facing extremely challenging times, our faith must not fail, we must strengthen our brothers. Everyday is a challenge, we need to turn our Lord in prayer and ask him to show us His will. It won't always be in some big event, it usually happens in the small encounters we experience each and every day..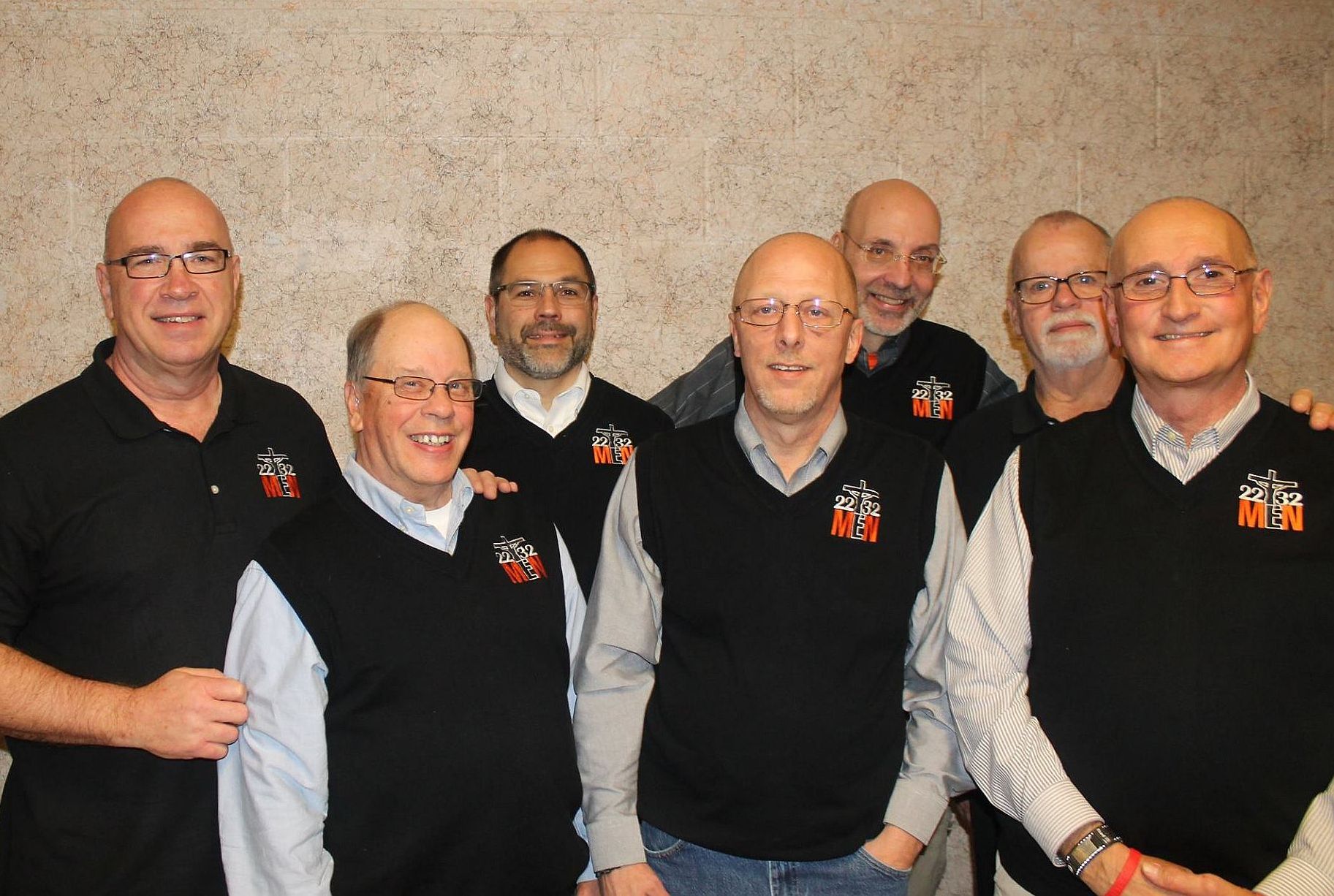 ---
22:32 Men's Official Prayer
Holy Father, thank you for your love in making us adopted sons in Jesus. Fill us with your Holy Spirit so we learn to repent and grow in holiness. Teach us to become the men you created us to be. Help us to strengthen our brothers and live Your will.
            We ask this through our Lord and brother Jesus Christ. Amen